Posted by
timmy76
on Tue Sep 16, 2014 8:12 am
New Online Stock car mod Released By: Timmy76





New Online Stock car Mod
18 new cars
3 old cars

Whats new?
Every car has had a complete remake front to back.
Each model comes with a 3d model engine, Gearbox, diff and suspension along with a revamped chassis bars. A new driver model has also been added (thanks Dalags) along with a new driver helmet and steering wheel.


New cars

2 Litre stock cars
Ford Sierra - Sierrassc. Sierra1 - Shale version (same physics)
Mk3 Ford Mondeo - Mk3Mondsc. - Mk3Mond1 - Shale version (same physics)

1300 s...



(Read More)

(Views | 182) (View Comments | 12)
Posted by
DaveO
on Wed Aug 27, 2014 7:50 pm
Updated Iowa Motor Speedway Released By: DaveO





When we first released Iowa Motor Speedway, we received some reports, of the track having some bumps in the infield, and also on the back straight racing surface. Since this is a brand new track for Heat, we decided to go back in and fix the minor bumps on the tracks racing surface, and in the front straight infield.. When in the process of doing this, TMS member Hunter, was updating his own personal copy of Iowa with track edits of his own. So I asked if he would share them with the community and let it be released with the updated Iowa track..

I would like to thank our in house master track guru Smoke, for helping me with fixing some of these bumps that we found..
I would also like to thank Hunter for sharing his own goodies in this track.
I'll let you guys find the updates yourselves..

Enjoy!

Dave

Below are the original credits from the first release of the track.

=================================================


Iowa Motor Speedway is now available for Heat.


Iowa Motor Speedway is a conv...



(Read More)

(Views | 131) (View Comments | 8)
Posted by
Blaxman
on Sat Jul 26, 2014 4:10 pm
JBS Wins Miami Race / Rookiesrock Gets His Second NHPS Title




The last race of 2014 NHPS G3 Cup Series marked Rookiesrock as season champion, making him now the first (and only) two-time NHPS Cup Series Champion and JBS as the newest driver to join NHPS Winner's Circle leading most laps and scoring the fastest lap (30.678 secs) of the race. Definately well deserved glories for both drivers.

Miami race results: JBS (1st), CruiseCtrl (2nd), Breeze (pole)(3rd), Ltfireman (4th), Patch (5th).

NHPS congratulates the Champion, race winners and all drivers who bravely competed this exciting season!!! Great racing fun, boys!!

Everyone is invited to joins our upcoming series later on this year, just like next year's Cup Series.

THANK YOU!


.



(Views | 219) (View Comments | 0)
Posted by
DaveyLM16
on Sun Jun 22, 2014 7:48 pm
DLM Dirt Late Model Released By: DaveyLM16



For the last several months we have seen a young man by the name of DaveyLM16, start learning and take a passion for wanting to edit Old Heat mods and tracks, and make them his own. He also has done some of his own artistic inspirations of cartoon figures as inspiration for himself and for younger folks. DaveyLM16 should be applauded for his efforts and his contributions to our Heat community. It's nice seeing a younger generation take an interest..
You can find more of DaveyLM16's heat related stuff at his website @ http://rsrdirtsim.webs.com/




It's here!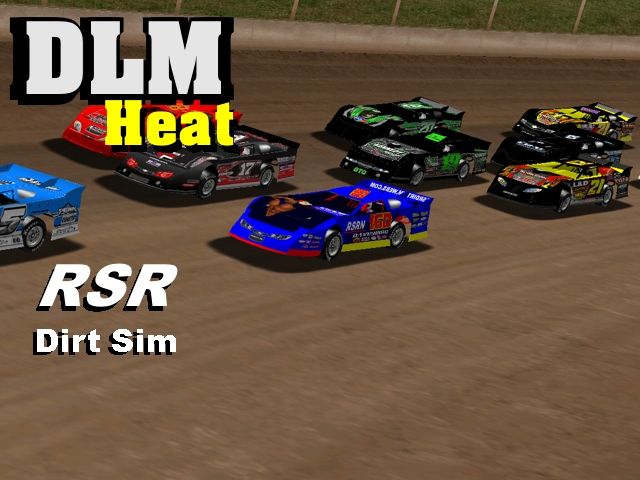 DLM Heat is the definitive NASCAR Heat mod for Dirt Late Models and more!

Features:

New body models using an enhanced DTR2 body

Three Late Model divisions, Super, Crate, and IMCA

Super Late Models have three different engine/weight configurations (chassis files) to reflect the open nature of these cars

Crate Late Models have two different chassis, which are balanced.

I've also added UMP Sportsman Super Stocks and UMP Modifieds as an extra. They will be in seperate mods later.

about ...



(Read More)

(Views | 443) (View Comments | 4)
Posted by
DaveO
on Tue Jun 17, 2014 5:51 am
Fever Heat Released By: Hawbaker Motorsports




Scott Hawbaker of Hawbaker Motorsports is proud to release his brand new Fever Heat mod a fun mod based on the 1967 movie!






It can be downloaded at hawbakermotorsports.webs.com

You can also read more about the mod in this thread.

http://www.themodsquad.info/modules.php?name=Forums&file=viewtopic&t=5706



(Views | 91) (View Comments | 2)
---
---
ADMIN

REG USER

PW CHANNEL (empty)

PW CHANNEL (in use)

NO/PW CHANNEL

NO/PW SUB-CHANNEL