Posted by
Blaxman
on Sun Dec 07, 2014 5:04 pm


.



(Views | 48) (View Comments | 0)
Posted by
DaveO
on Tue Nov 18, 2014 7:52 am
SpeedSims Modding Tutorial



Cholerix founder and owner of SpeedSims http://speedsims.org has given TMS permission to host SpeedSims modding tutorial. Cholerix years ago had created a comprehensive tutorial for Modding Nascar Heat that covers all the nuts and bolts from A-Z for modding Nascar Heat.

You will find it on the main page of the TMS site on the left hand side under resources..

I would like to thank TWChad for taken the time for helping to implement it here at TMS.



(Views | 139) (View Comments | 0)
Posted by
smoke
on Mon Oct 20, 2014 6:37 am
Rockingham UK Oval Released by: Smoke



Rockingham UK Oval is now available for Heat.


Track Facts:
Length: 1.479 miles Oval
Banking: 3.5-7.9 degree
Opened: 2001
Location: Corby, Northamptonshire, England

A conversion of the rFactor track, by Lasercutter/Deadeyeski. I have received permission in the past from Lasercutter to convert his tracks to Heat and have done so with his Teretonga, Oulton Park, and Seven Hills. Those developers had several people listed as contributers in the rFactor readme which I will not list here, but thanks to Lasercutter/Deadeyeski for the rFactor version!

This is the Oval version of Rockingham UK, and the model has 13 layouts for road courses also, some of which will be done in future releases for Heat. There are 34 pit working pit stalls, and the road course layout area is open to look around.

I have tried to extend the Heat version, from the work done in the rFactor version. I will not go into detail about all the additions/changes/rework in the Heat version, but this has taken several months to develop/test.

Thanks to:
The origi...



(Read More)

(Views | 228) (View Comments | 8)
Posted by
DaveO
on Wed Oct 01, 2014 12:22 pm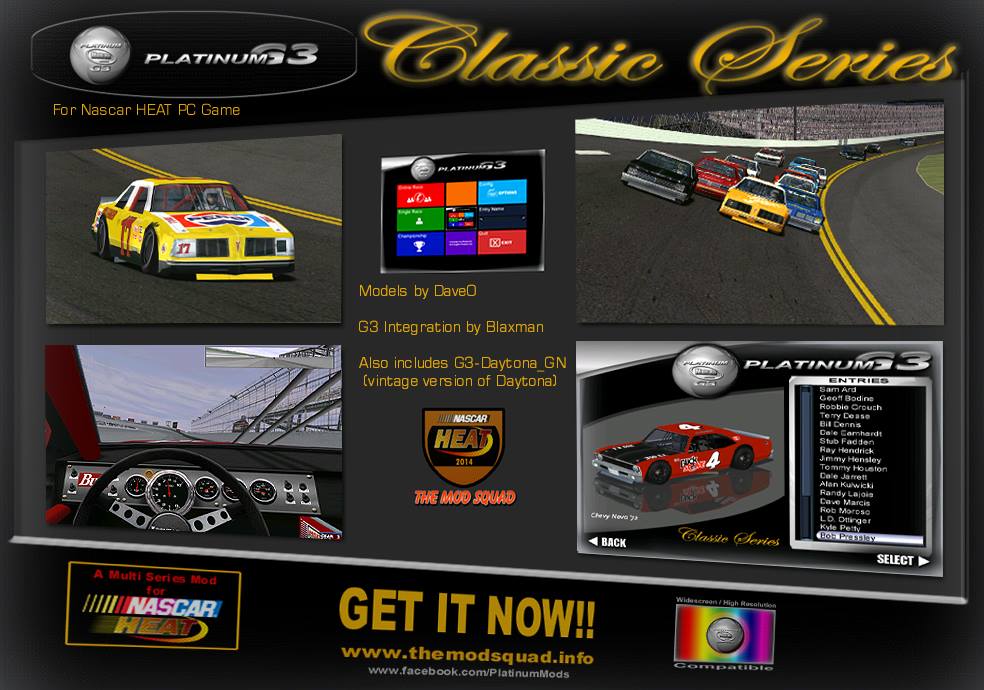 It's finally here the G3 Classic car mod has been a long time coming over the last year and half of development.



The Mod consists of 8 models:



Chevy Nova
Buick Apollo
Chevy Malibu
Oldsmobile Calais
Omega
Pontiac Grand Am
Pontiac P6000
Somerset
Ventura




Credits:


3D Modeling:
DaveO



Templates:


DaveO

Paints:
DaveO
Blaxman

G3 Integration:
Blaxman



Beta Testing:


Smoke
Cruisectrl
DaveO
Blaxman
Dave Jr.



Research:


Blaxman
DaveO
Raybee1970

First time Nascar HEAT users will need this to get the mod working:

-

Nascar HEAT CD (Patch 1.80) or HEAT Essentials-2:

http://www.themodsquad.info/modules.php?name=Downloads&d_op=getit&lid=187

-

G3 Base files:

http://www.themodsquad.info/modules.php?name=Downloads&d_op=viewdownload&cid=50

- Once the game is set, the...



(Read More)

(Views | 1075) (View Comments | 47)
Well guys, this is what we've all been waiting for, a new race series, with a new league site and soon to be released, Classics mod to race.

I hope you will find it was worth the wait

Right now what we need everyone to do is go register at the new league site so we can get your driver names into the data base.
Then once Dave and Blaxman release the Classics and you find your fav car and #, or start on your custom paint, post it in the sign up section.
Also feel free to post your thoughts on the new site in this section

Thanks for your patience and for racing at TMS

Cyas on the track

TMS Leagues

Please also sign up here



(Views | 25) (View Comments | 0)
Posted by
DaveO
on Tue Sep 30, 2014 6:42 pm
G3 - Classic Mod Online Racing Series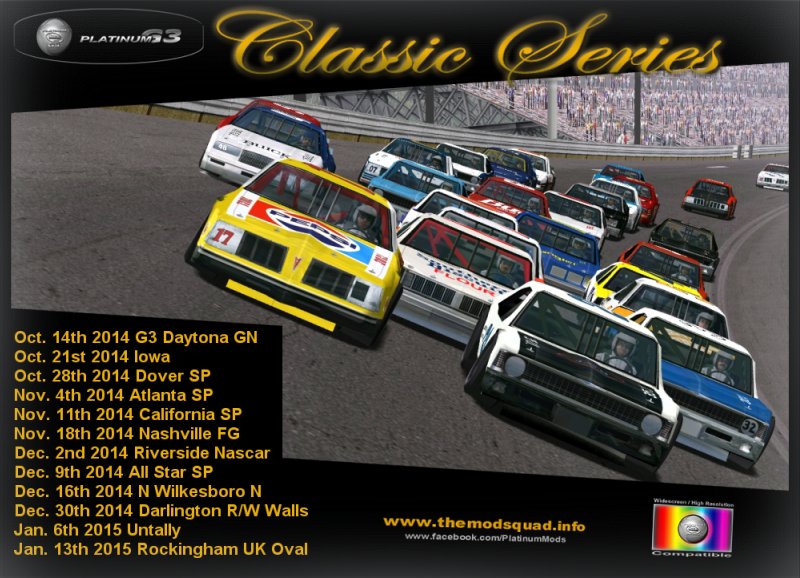 With the much anticipated release of our G3 Classic Series mod in the next day are so, we are ready to get back into the saddle with some online racing again starting with a welcome race on Tuesday night October 14th @ 9pm Eastern.

Sign up here

All of us at TMS would also like to thank Dusterlag and all the great guys at Heatfinder, for providing TMS with a brand new online database for online racing..

You can find our brand new database at this link. TMS Racing Leagues I would like to also thank the crew here at TMS with taken the time during last month with working to learn the in's and out's of running the database, and to the Heatfinder crew for answering our endless questions.

You can also access the Online racing site from the main page here at TMS, by going to the upper left hand corner of the site and clicking on TMS Racing leagues..

Thanks again everyone for helping over the last several months with so many different things, I truly cannot list them all.

Happy Racing!!
...



(Read More)

(Views | 502) (View Comments | 1)
---
---
ADMIN

REG USER

PW CHANNEL (empty)

PW CHANNEL (in use)

NO/PW CHANNEL

NO/PW SUB-CHANNEL